Wheatgrass – Provides Energy and Rich Nutrition for Body Functions
Is wheatgrass a nutritional wonder? Absolutely. Cereal grass supplements and juices are potent, health promoting additions to our diets that are substantiated by an avalanche of good science, you can prepare over 80 recipes for breakfast recipes after the gym with it.
Are you looking for supplements that give energy and strength to tackle your busy life?
Would you like to take something where you can feel the effects immediately? Wheatgrass will certainly meet this need.

What do cereal grasses have to offer?
Chlorophyll, nature's most health promoting nutrient.

A highly concentrated source of vitamins, minerals, fiber, omega-3 and omega-6 essential fatty acids, enzymes, amino acids and phytonutrients.

Supports the growth of probiotics (friendly bacteria) in the intestinal tract.

A plentiful source of protein.

Stimulate immune system activity.

Promote healthy digestive function.

Speed wound healing.

Powerful antioxidants that protect against the effects of radiation.
Wheatgrass Benefits
Contains 20 amino acids.

Provides several hundred different enzymes not found in other foods.

Contains as many as 90 out of possible 102 minerals.

A complete food rich in essential vitamins, minerals, complete proteins, fiber, enzymes, fatty acids, phytonutrients and more.

Rich in SOD (superoxide dismutase) a potent free radical scavenging antioxidant.

Popularized by the late Ann Wigmore, founder of the Hippocrates Health Institute, who reportedly healed herself of colitis, headaches, arthritis, and other illnesses by eating this grass. Wheatgrass is thought to boost immunity and detoxify the body by increasing the enzyme content of the cells. These enzymes then "digest" accumulated toxins.

Studies show that it may reduce the efficacy of chemicals and organisms which transform normal cells to cancerous cells.
Wheatgrass Chlorophyll Benefits
This nutrient is abundant in cereal grasses and here are a few of the things it does best.

A powerful detoxifying agent for the liver.

A strong internal deodorizer for the entire digestive tract.

Cuts excess cholesterol, triglycerides and other blood lipids (fats).

Nearly identical chemical structure to hemoglobin, the body's critical oxygen and iron carrying blood protein. Stimulates hemoglobin production which oxygenates and energizes the entire body.

Cleanses, rebuilds and neutralizes toxins.
Wheatgrass Supplements
Cereal grasses can be found individually or in combination supplements. They are available in capsules, tablets and powders to mix into juice or water. They should never be taken with anything hot or warm and best results are achieved by taking on an empty stomach.
A personal word of testimony It was over 20 years ago that a neighbor introduced me to a supplement she was very enthusiastic about – a cereal grass. I take it every day and feel it gives me energy and strength to do things. It certainly lives up to its billing.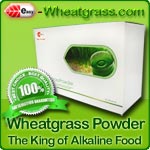 A final word. Wheatgrass, one of earth's most ancient foods has emerged as one of the world's newest nutritional wonders. It provides rich nutrition to heal, nourish and soothe.
Experience the exceptional health benefits and power of wheatgrass by incorporating it into your health regimen today. You'll feel the difference it can make. Easy-wheatgrass is an impressive company which has won numerous awards. They currently have a promotion where if you buy one box of wheatgrass powder, you will receive another for $1. Order now.

Disclaimer: No medical claim is made on any particular product. Dietary supplements are not a substitute for treatment by your licenses medical professional.